Valencia is a perfect city for this. However, you should take into account some of our recommendations and some itineraries that will make your stay much more interesting.
Today: Valencia on an electric scooter
We want to start by explaining where you can rent an electric scooter in Valencia.. You need to come to a rental shop. In Valencia we do not have dockless scooter rental services as in other European cities. If you are wondering why that is the case, the measure was taken directly by the city council to prevent the creation of new obstacles for pedestrian traffic, mainly in the city center.
Now that you know the reason, if you want to take a tour on your own, come to Valenjoy to rent your scooter. Their shop is very close to the Central Market and La Lonja and they are the pioneers in scooter rental in Valencia.
If you want a guided e-scooter tour, read on
Would you like us to tell you the stories of Valencia? If that is the case, we will show you the history of the city, recommend extra activities and where to eat. You should take a tour with us, but do take into account that the groups must be formed in advance (at the moment we do not sell single tour tickets).
Valencia on an electric scooter is the perfect activity for small groups
After renting your scooter, you must be aware of the rules. They will surely explain this to you at the rental place, but if you want to be informed beforehand, keep reading:
Since October 2019, you must wear a helmet. Should you choose not to, you are putting your safety at risk and you can get a hefty fine.
Respect street direction. You already know you should not drive against traffic.
You cannot drive on most sidewalks, unless they are wider than 3.5 meters. Better not risk it. Bike lanes are widespread in Valencia. We currently have approximately 150 kilometers that reach (almost) every district of the city.
Respect the rest of traffic signs, remember that scooters can by quite fast. You are on vacation and you should be enjoying.
If you are travelling as a group, you should know that groups of over 15 people are not allowed, so if you decide to have a guided scooter tour, the guides must form small groups, which is also better to keep everyone safe and make it more enjoyable
What can you see in Valencia from an e-scooter?
After our recommendations, you will surely want to discover the city on your scooter, so here we go:
Discover the Turia Gardens in Valencia with your e-scooter. This is a perfect itinerary that will also reach the City of Arts and Sciences or to the Bioparc, depending on what you prefer to visit.
Take a moment to go to the beach. Depending on where you start your route, you can get there in different ways, but if you go to the City of Arts and Sciences, move further from there towards the port, reaching the beach will only take you about 15 minutes.
If you want to get away from the city for a little, going to the Albufera Natural Park might be too much, but you can reach Pinedo, a beach area located just about 15 minutes from Valencia, where you can also have a bite in one of the restaurants facing the sea.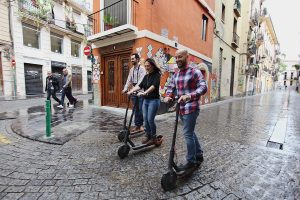 Leave the old town behind, go to Benimaclet, the most characteristic university district, where you will also experience a relaxed local atmosphere. Discover its small town square and one-story houses with interior patios in the old part of the neighbourhood. We love it!
A piece of advice: The Benimaclet old town is much more enjoyable if you walk through it.
Another perfect option is going to the district of Ruzafa and continue to Parque Central Valencia (Valencia Central Park). By bike, on foot or on an e-scooter, this is one of the must-see new parks in Valencia. It is located behind Valencia North Station. Some old station warehouses have been recovered and reopened as a meeting place. This is the first part of Gustafson's project. It opened in early 2019, and further work is being carried out on the following phases of the park.
The new trendy neighborhood is Patraix, and you can also get there on your e-scooter. Our recommendation is to choose a terrace and breathe in the neighborhood atmosphere.
Different tastes, different options
As you can see, you have different options to discover Valencia on an e-scooter. Of course, if you are a group we recommend you to book a tour with us. We have experience and many of us have personally joined the green and comfortable trend of moving around the city on an e-scooter.
A piece of advice: A perfect activity for corporate groups and incentives. This is a different way to explore Valencia and groups really enjoy it.