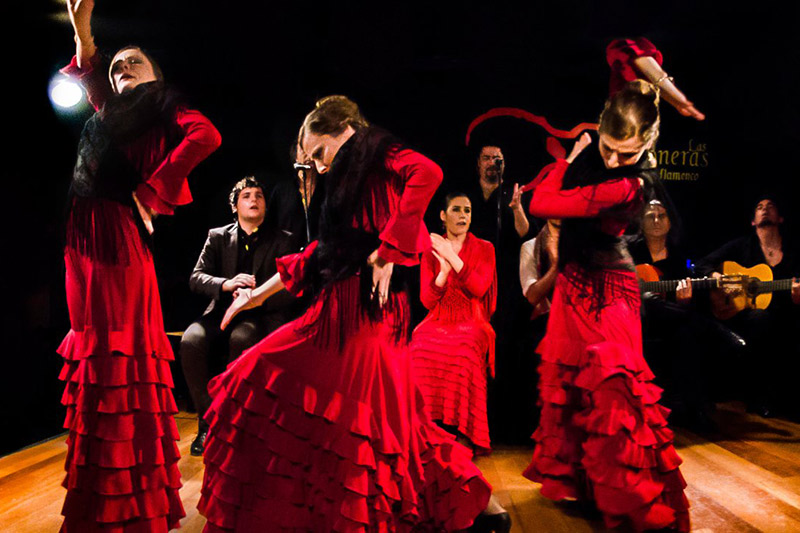 An essential activity if you visit Spain.
The passion of the dancers will make you fall in love with their art.
Let yourself be seduced by our culture and tradition.
We know that your holiday in Spain would be somewhat incomplete without a nice flamenco evening, so you must not leave without enjoying the show we are proposing to you.
This activity offers a pleasant night enjoying Spanish cuisine.
You will feel the art and passion of flamenco dancers. They give their all on stage with their singing and footwork. Flamenco was born in villages, is part of our folklore, highlights the different cultures that passed through the Iberian Peninsula and shaped our character and history.
Duration: Approximately 2 hours.
We work with groups and individuals.
For groups of more than 35 people, there is also a weekday option. For smaller groups, only available during the weekends.
Diana Marco Z.
30/06/2022
Totalmente recomendable! Teresa lo gestionó y organizó todo genial, incluso en un corto plazo de tiempo. El grupo era alemán-español y quedó más que encantado tanto con ella como las otras guías que tuvimos. Muy profesionales, muy amables y cercanas y con mucho conocimiento de lo que hacen. Mil gracias!
Guiarte Valencia nos hizo una visita del centro de Valencia para un grupo de estudiantes, supo adaptar la visita a la edad de los niños y al calor que sufrimos durante el recorrido
Gran agencia de guías oficiales de turismo. La comunicación con ellos para preparar la visita es siempre ágil y precisa y las visitas en sí amenas, didácticas y biena adaptadas a la edad de los asistentes. Muy recomendable
Paseo enriquecedor y muy agradable, durante el que, todos los integrantes de ambos grupos, conocimos más y mejor Valencia. Lo mejor, las dos guías que nos acompañaron, Elena y Anabel, que lo hicieron posible.
Charo Mora llabata
24/05/2022
Fantástica experiencia. Totalmente recomendable.
Ainara Lazkano
23/05/2022
Pedro súper agradable y la visita se nos hizo muy amena lo recomiendo 100%
Amaia Elgarresta
23/04/2022
Una experiencia para repetir! Pedro, nuestro guía, una maravilla de persona y un lujo la visita guiada que hicimos con él. Muy recomendable! Gracias a Pedro y a Teresa por el grato recuerdo que nos llevamos de su visita y de Valencia
Guías estupendas que nos hicieron descubrir su bonita ciudad. A nuestros alumnos les encantó esta visita y las 2 guías que nos acompañaron durante esta visita permitieron a nuestros alumnos ser actores de esta visita. Muchas gracias.
Fuimos de excursión con alumnos de 2.º de ESO. La atención, pese a las dificultades derivadas de la pandemia, fue inmejorable: Teresa siempre estuvo dispuesta a atender las necesidades de mi grupo, así como a modificar la visita según nuestras preferencias y sugerencias. Los guías oficiales adaptaron la visita a la edad de los alumnos y resultó muy interesante y motivadora por los juegos que les iban proponiendo. Repetiremos sin duda.
BOSSVI BOSSVIDECO
15/02/2022
Maravillosa visita guiada cultural y amena. Pedro nos ha mostrado en casco antiguo con mucho detalle y de un modo muy instructivo. Recomendamos 100% el tour guiado privado.
We invite you to be raptured by ART
Book your activity
Call Now