1 day in Valencia
Are you coming to Valencia only for a day? 24 hours in Valencia: make the most of your time.
If you are coming for just 24 hours, we can tell you how to make the most of that time and everything that you should see.
How to get to Valencia?
If you arrive by plane, you will arrive at Manises Airport, which is is approximately 15-20 minutes from the city by car. Once you land you can take a taxi to your hotel (you will find taxis at the terminal) or you can get to the city using public transport (the metro is the best option in this case).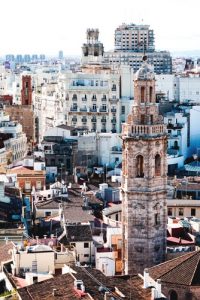 Visit the Metro Valencia website to plan your tour, how to get to your destination, and check schedules and ticket prices.
If you are only coming for a day, but you have luggage and don't have a hotel booked, we recommend leaving your luggage at the North Station lockers. To get there you will have to get off at the Xativa stop. If you are coming from the airport, you don't need to transfer. Moreover, the train station is less than 5 minutes away from the City Hall Square.
Note that the airport does not have a locker service.
Another option: also at the city center, behind Valencia's Central Market, there is Lock and Be Free. You can also leave your luggage there. You can find it in Calle de Blanes 7.
In the morning. What to visit?
Go for a stroll around the old town, visit the most important and emblematic buildings of the city. Valencia has one of the largest historical districts in Europe. If you want to explore it and you are coming with a group of at least 5 people, we recommend our Essential Valencia tour.
If you prefer to visit on your own, do not forget to visit La Lonja de la Seda. It costs 2 euros per person and we assure you that this World Heritage Site will take your breath away.
Continue your tour of the old town visiting Valencia's Central Market, but remember that it is only open from Monday to Saturday until 15 hours.  Keep walking towards Plaza Redonda and Plaza de la Reina, where the main door of the Cathedral of Valencia is located. Before you leave, remember to visit the Basilica, just a few steps from the Cathedral of Valencia, at Plaza de la Virgen.
Where to have a bite?
We recommend having lunch in the old town, Barrio del Carmen, as locals call the area. You will find a wide range of cuisine options for all tastes and pockets.
In the afternoon
Travel to the City of Arts and Sciences. You can do it by taxi or bus. To take bus line 95, travel to the stop next to the Serranos Towers.
We recommend downloading the Metropolitan Transport Company app (EMT) to check how to reach any place by bus. You can pay directly to the driver, it costs only 1.50 euros (remember to carry small change) or buy a 10-trip voucher.
You should know: bus vouchers must be purchased at authorized tobacconists or newsstands. They can be loaded with up to 30 trips and once purchased you can also reload them online..
Once in the City of Arts and Sciences, we recommend a walk through this architectural complex designed by the architect Santiago Calatrava. If you want to visit one of the buildings, the Oceanographic is a must-see. It will take you at least 3 hours to see everything inside. You can also visit the Science Museum and watch one of the 3D movies in the IMAX cinema. There are combined tickets which can save you some money. You can buy tickets directly on our website.
At night
If you want to visit another trendy area in Valencia, go to Ruzafa. From the City of Arts and Sciences you can reach this district with bus line 35. You will be surprised by the wide range of restaurants in the area, as well as the atmosphere.
You have a wide variety of places to eat and if you decide to live the night for a little longer, you can visit Café Mercedes for a relaxed atmosphere or Upper Club, which opens until the early hours of the morning.
Are you going to spend more than a day in Valencia?