We all like discovering the most important tourist assets of the cities we know, but what about feeling like a true native in the city you visit?
Today we want to show you some places where you will meet the rest of local people and feel like a real Valencian.
Start your day with energy and jog in the Turia. That's right, there is no self-respecting Valencian who doesn't use the riverbed and surrounding areas to practice some sport. You can also ride a bike to the Parque de Cabecera (Cabecera Park).
There are different bike rentals in Valencia, and you can also use "Valenbisi". Find out more about this service here.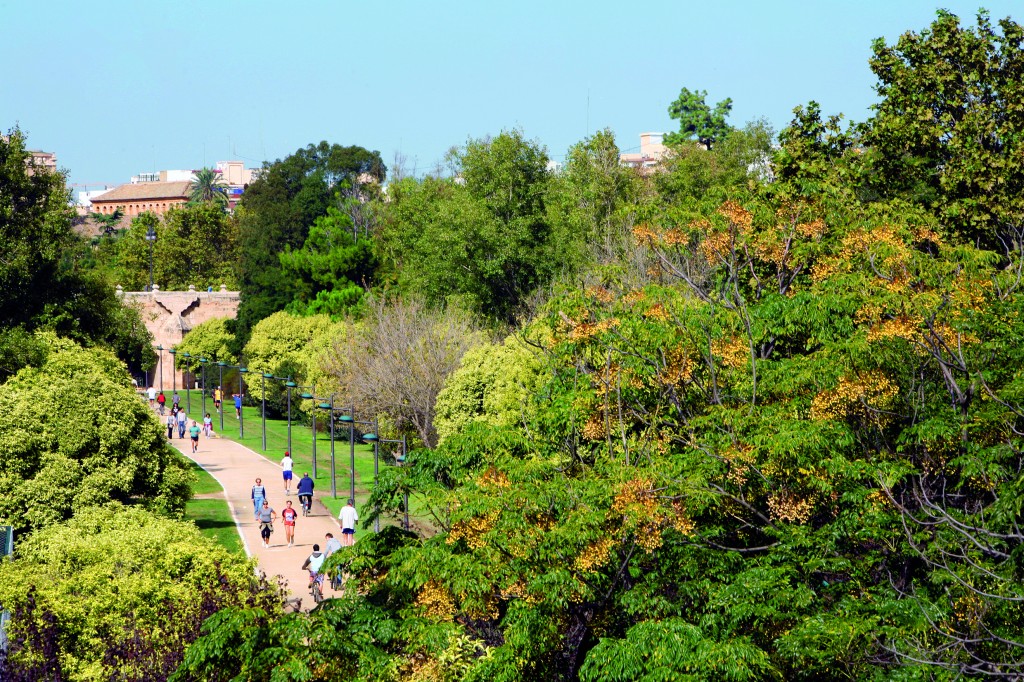 Once adrenaline is released, you can stroll down the old town. If you fancy a coffee, get to "Café Camille" on Calle del Trench (Trench Street), a typical café to have a quick but excellent cup of coffee. If you have kids, it might not be the best option, as there is barely any seat available.
Shop at the Mercado Central (Central Market). As I mentioned in previous articles, the market is a meeting point for tourists and residents. Official guides always show the market to our groups because it is one of the most interesting attractions in the city of Valencia and it helps visitors understand the Valencian huerta or market garden. But besides this, Valencian residents near the big market usually do buy their groceries there.
For a snack in the old town after your walk around the Mercado Central de Valencia, do not miss the opportunity to enjoy one of the small bars nearby.
TIP: Inside Market you find: Central Bar, running by Ricard Camarena
Just opposite the front door of the building is a small, traditional pub, "La Boatella", where you'll find really good tapas. If you prefer something quieter, "Los Escalones de la Lonja" (The Steps of the Silkexchange) is very close.
Depending on your choice, you can choose some appetizers or have a nice meal there, plus they have paella during the weekends.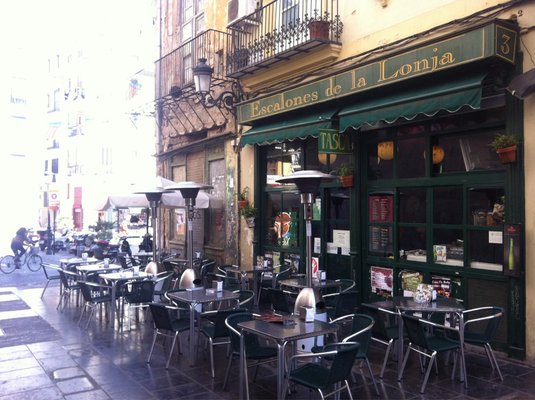 We know you need a coffee after lunch
For a coffee, nothing is more typical than the terrace in "El Lisboa", where you can have a cup accompanied by a glass of Mistela sweet wine, a liquor made from typically Valencian Muscat grapes.
In the afternoon, take a tour on Calle de la Paz (Peace Street) and Calle Colón (Columbus Street), shopping area of the city of Valencia. From here you can easily access the district of Ruzafa, the most fashionable district of the city, where loads of new shops and restaurants have opened in recent years. Today, it is definitely the hip district.
You will find activities for children, micro-theater, bookstores specialising in graphic novels, all surrounded by many terraces where you can sit and have a drink and/or dinner. This neighborhood is also one of the most historic ones in Valencia, which is why if you want a guided tour of Ruzafa we encourage you to consult us.
Maybe you looking for some party. Let´s do it
In the evening, you'll find several clubs here open until 3 o'clock in the morning approximately, including "Upper" and "XL". If you want something more quiet you can go to "Café Mercedes", where there's usually live jazz music while you have your drink.
Yoy maybe prefer to change neighborhood, go back to El Carmen, to go to the "Café de las Horas", whose decor you will love, and where you can sit, relax and sip your drink. If you feel like dancing "cup in hand" go to "Café Bolsería" on Plaza del Tossal (Tossal Square) or to "Café Negrito". Their terrace closes at 1:30 am but you can dance inside until 3 in the morning.
In the historical district, sitting in a quite non-touristic street near the Torres de Quart (Quart Towers) there is the "Christopher Lee" bar, where you will not find a single tourist and will enjoy the best cocktails in the city of Valencia. You can be sure its decoration won't leave you indifferent.
Take advantage of the weekend
The following day, you can use Sunday morning to go to the beach. You can do some sports such as jogging on the sand, skating in one of the old harbour platforms, or just have a nice walk. If you travel with your dog, the beach adjoining the Patacona, before reaching Pobla de Farnals, accepts dogs and you can enjoy the sea with your pet.
Go have a good paella, as it is very typical for Valencian families to have it on Sundays. If that is not an option, restaurants will offer good alternatives. We recommend you to choose one of the restaurants on the promenade or to go to the nearby towns Pinedo or El Palmar.
We do also highly recommend our gastronomy tours. Let´s discover Spain cooking!