Are you visiting the city? Would you like to explore it riding a bike?
We offer you some recommendations when renting a bike in Valencia. The best option is, of course, to have a bike tour in Valencia, so you can become acquainted with the city, discover the most emblematic spots, feel healthier doing some sport and experiencing the city along with a local Official Guide, who will make sure you enjoy your visit.
If you prefer to ride on your own, there are several options for bike rental:
1) A good place to rent a bike in Valencia is "Do you Bike Valencia". They have different shops in the city. But if you walk around the city, you will find other options.
Their convenient location makes it very easy to find them. Their staff is really helpful, and will be pleased to help you if you have any question about what to do in Valencia.
I cannot recommend riding in a large group around the city centre, as some of the streets are very narrow and still open to car traffic. But it is very easy to access the Turia Gardens from both locations, especially from the one in Calle Corretgeria. Go across Plaza de la Reina, down Calle del Mar until La Glorieta, then follow Navarro Reverter and cross the Puente del Mar bridge to enter the riverbed.
Their bikes are all new and fully equipped.
Another option you can choose is Valenbisi
2) The second option is using Valenbisi, the public urban transport system that has been successfully working in Valencia for the last years. From the moment it started, more and more people have started using these bikes as their usual means of transport. Probably this is not breaking news for you, as the service exists in other Spanish and European cities as well. Besides, they work very similarly.
Around Valencia, you will find different bike "stations", where you can rent your bike with your ID and a PIN number. You can have the weekly ticket for €13.30 (year 2015 prices). When you rent one of these bikes, the first 30 minutes of riding about are free, then you have to pay €1 per hour.
As I was saying, it is a very practical option in Valencia , which is a very bike-friendly city. In addition, the bike stations are scattered all throughout the city. Although from my point of view, if you are on holidays, the most useful thing is to rent a private bike. It will be faster, easier and you will receive a lock to keep the vehicle safe.
For further information on the Valenbisi service, you can check this website:Valenbisi Valencia. And here you have a Valenbisi Map to find all the stations in the city.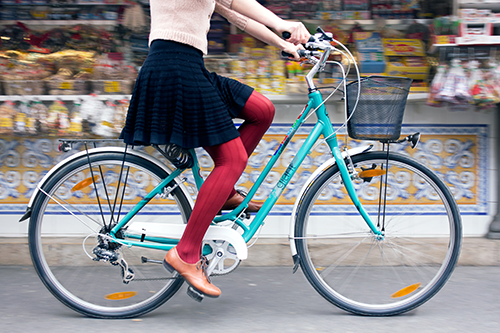 If you prefer to be guided. We do organise a tailored made bike tour for your group.