One of the favourite destinations of Spanish people for a weekend break is Valencia. Today 48 hours in Valencia
Valencia: perfect weekend destination
The city of Valencia is one of the world's favorite weekend destinations. So if you're thinking of a two-day getaway, Valencia is a perfect choice. Make the most of your 48 hours in Valencia with our best recommendations.
There are a lot of direct flights from many European cities. If you are travelling from a different part of Spain, there is also the option to arrive by train. Remember there are high-speed trains from Madrid and from the south of Spain. You will reach your destination in a few hours. And now, let's ENJOY.
Discover the city in two days: Today, Valencia in 48 hours
Day 1 – morning:
Make sure you visit the old town. Our recommended itinerary is as follows:
Serranos Towers: a perfect place to start your tour of Valencia's old town. An ancient Christian wall built in military Gothic style that provides access to the historic area.
A PIECE OF ADVICE: climb to the top of the towers. The entrance fee is only 2 euros per person (and free on Sundays and public holidays). Check the opening times here.
From the top you will have beautiful views of the Turia Gardens.
Basilica of Our Lady of the Forsaken: located at Plaza de la Virgen, one of the most beautiful squares in the city of Valencia. Admire its phenomenal frescoes, painted by the artist from Cordoba Antonio Palomino.
Cathedral of Valencia: you must access it through the main door, which you can find in Plaza de la Reina. Admission is 8 euros per person. If you are part of a guided tour with an official guide, the fee is reduced to just 4 euros per person.
A piece of advice: Visit the Chapel of Saint Francis Borgia, where you can find two original paintings by the great artist Francisco de Goya. To enjoy some of the jewels of the Spanish Renaissance you must reach the main altar of the Cathedral, where you will be welcome by the "musician angels". And of course, visit the museum and the Chapel of the Holy Chalice.
A piece of advice: if you have not climbed the Serranos Towers, gather your strengths and climb the 207 steps of the Miguelete (the tower of the cathedral) to have one of the best views of the city. Valencia from above. Take into account that climbing the Miguelete tower has an extra fee, it is not included with the Cathedral ticket.
City Hall Square: the main square of the city. If you have time, enter the building and feel like a real fallera major (the queen of the Fallas festival) by taking a photo from its balcony. Why so? Because this is where the order to start is given to the fireworks masters during the Fallas festival.
Just a few steps from the Valencia City Hall is the North Station, a modernist train station considered one of the most beautiful in Spain. We think you will love it. Also right next to it, you can admire the beautiful Bullring.
Central Market: open Monday to Saturday until 15 hours. Here you can taste a lot of gourmet products and buy something to take home.
If you also want to have a coffee, you can do it inside the building itself or in any of the surrounding cafés. In one of them, "El Trocito del Medio", you can have them cook what you bought in the market. There is no better plan.
A PIECE OF ADVICE: If you plan to do this, ask for a table in advance, because the restaurant is often quite busy. If you are visiting with a group, call to book in advance.
OUR RECOMMENDATION: Visit the fishmonger's area within the Central Market, a true spectacle! Please note that this area is only open from Tuesday to Saturday.
If you are looking for other places to eat, download our Foodie Guide to Valencia. FREE
Lonja de la Seda (Silk Exchange): Unesco World Heritage Site, one of the crown jewels of the city. Stunning Gothic architecture, a temple of Valencian silk trade built in Gothic style.
A PIECE OF ADVICE: It is worth entering to admire its columns, decoration and gargoyles. Many of them hide secret stories. 😉
Should you prefer a guided tour, we would like to have you. Professional and experienced Official Guides. We have history, tips and anecdotes for you, and we are also really nice. Don't hesitate to contact us.
In the afternoon, a change of scenery
Welcome to the city of the future: The City of Arts and Sciences. You have seen nothing like it.
You can get there by taxi or public transport (line 95, 25 or 19). We always recommend downloading the EMT APP (Metropolitan Transport Company of Valencia).
A piece of advice: You can also get here by bike. Walk along the stunning Turia Gardens and feel like a local. Are you a fan of cycling? Lucky for you, our BLOG gives you a lot of recommendations to visit Valencia by bike.
A PIECE OF ADVICE: if you are traveling by bus, remember to bring small change. You can buy your ticket from the driver, each ticket is 1.5 euros. If you are going to take the bus, it is best to buy a 10-trip voucher at a newsstand or a tobacco shop. You can pre-charge the card with up to 30 bus tickets. In this blog you can find much more information on how to move around Valencia.
Once you get off at the City of Arts and Sciences, you will have several options: you can enter one of the buildings or just walk around the area. Your friends will be so jealous when they see the photos.
Valencia enjoys more than 300 sunny days a year, so make sure you visit the beach.
It doesn't matter if you come during the winter, if the sun is shining or not. Enjoy the sea breeze, walk on the sand and dare to get your feet wet. Impossible to resist.
Take a walk or find the perfect terrace, but take advantage of the Mediterranean and its wonderful sun.
Thinking about dinner?
In Valencia's traditional fishing district, which also deserves a visit in broad daylight to contemplate the beautiful facades of its buildings, covered in Valencian ceramics, you can find many options in front of the beach or very close to it.   Bodega Anyora, Ca La Mar and Casa Montaña are great options. In our hones opinion, all three deserve an enthusiastic recommendation.
Day 2 – morning:
Nature or Monumental Valencia?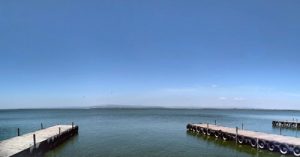 If you want to continue visiting museums and monuments, we propose returning to the old town. There are still a lot of things to see, such as:
Roman Valencia: go 2000 years back in time and walk the Via Augusta. Almoina Archaeological Museum. Check the opening times here.
The Valencian Sistine Chapel. This is how the Church of San Nicolás is commonly known in Valencia. We think you must see it. You can find it on Calle Caballeros.
Want to know more about the history of Silk in Valencia? If that's the case, come to the College of High Silk Art.
If you want something different, spend the day at the Albufera Natural Park. If you have a car, getting there is very easy, and if you don't, you can get there using public transport (line 25) or the tourist bus, which also includes a boat ride around the lagoon.
A piece of advice: If you take line 25, check the timetable. Depending on the time of year, the frequency changes and you may have fewer options.
Our recommendation: take a boat ride and taste an authentic Valencian paella. Do you want to know why Valencians get so serious about paella? Find out here.
Maybe you are coming to Valencia with children and you are looking for a different plan. That's alright, we have what you need, Valencia with children. The best recommendations.
Are you organizing a group to visit Valencia? Leave it to us and relax, we will advise you. You will have our recommendations, and we will receive your group and make sure everything goes perfectly.
The visitors will discover, explore and enjoy while we do what we do best: BE THEIR GUIDES
Once you come to Valencia, we're sure you'll want to come back.