.You're arriving to Valencia by cruise and want to make the most of your stop in the city.
This is your lucky day! Read on because we will show you a complete itinerary so you don't miss anything. You can do it on your own or with us.
Our first recommendation:Get a city map at the Tourist Office located in the Transmediterránea Terminal. If you want, you can also get the Valencia Tourist Card there..
You're arriving to Valencia by cruise and want to make the most of your stop in the city.
Practical information to get to Valencia's old town:
The main port terminal is located about 15-20 minutes from Valencia's old town. There are different ways to get to the city center. The quicker one is to get a taxi (it will cost around 20 euros). You should know that there are other more remote terminals. If your cruise ship docks in any of them, keep in mind that the fare will also be higher.
Another option is to reach the city center using public transport (line 95 or 4). Line 4 you will take you to the City Hall, at the heart of the city, and the trip will take about 35 minutes. If you decide to take line 95, it will take about 40 minutes but you can go to the City of Arts and Sciences first – do not leave without visiting this area. If you want to continue to the city center, get off at the Pont de Fusta stop. It is very close to the old town, you just have to cross one of the bridges over the Turia Gardens and enter the district through the old medieval gates, called Serranos Towers.
The bus fare is 1.50 euros per person and you can pay it directly to the driver. A piece of advice: Remember to bring small change.
BE AWARE: that if your cruise in Valencia does not dock in the main terminal, you must first travel to the main terminal with your ship's "shuttle" so you can take the EMT bus lines.
ANOTHER PIECE OF ADVICE: download the EMT app of the Metropolitan Transportation Company of Valencia,It provides information about all the lines and schedules. You can enter each any stop's id. number in the app to check how long you will have to wait for your bus..
What to visit in Valencia's old town
Cruise ships' stopover in Valencia is usually about 10 hours. In that time we recommend that you visit two areas: the old town and the City of Arts and Sciences.
Once you know how to get to Valencia's city center, here are the things you shouldn't miss..
Climb the Serranos Towers, they will provide a nice view of the city.
Enter the Basilica and admire its frescoes. The building is located at Plaza de la Virgen and is free to access.
Enter the Cathedral. The entrance ticket costs 8 euros per person and the gates are located in Plaza de la Reina. Make sure you visit the Chapel of the Holy Chalice.
Fall in love with Plaza Redonda ("the round square") and bring back home a nice piece of Valencian handmade ceramics.
Are you hungry? Let's go to the Central Market, one of the largest in Europe. It opens from 7:30 to 15:00 hours, so keep an eye on the watch and do not miss it because it's really worth it.
Visit La Lonja de la Seda (the old silk exchange), located right in front of the Valencia Central Market. The ticket is only 2 euros for individuals and 1 euro per person for groups of 10 or more people. It is free on Sundays and public holidays, but it closes at 14 hours.
You might want to stop to have a little snack. Let yourself be carried away by your senses and look for a small and attractive place to enjoy your meal, or check the following article.
When you're done eating and if you haven't visited the City of Arts and Sciences please do. You'll be surprised and you will surely love it. You can go there by public transport (line 95 or 35) or by taxi. You won't have time to visit the interior of every building, but even going for a stroll around the area is worth your time.
You can go back to your ship on line 95..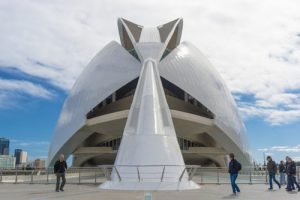 Another option: Take a cruise tour in Valencia with Guiarte Valencia
On the other hand, if you prefer to take a guided tour of Valencia with us, you will make the most of the hours you spend in the city. We can organize everything for you: from transportation to tickets and, of course, we can be your personal guides. We can pick you up at the port, at the main terminal entrance, and start our cruise tour in Valencia.
Why to take a with us?
Comfort and simplicity.
Forget the stress, you're on vacation. We can organize whatever you might need.
Make the most of your time.
We adapt to your tastes: whether you want a 4-hour tour or a full-day visit, no problem with that.
You will be accompanied by official guides who know the city like the back of their hand.
If you want, we can book a good restaurant for you.
Lend an ear, we'll give you a lot of good recommendations.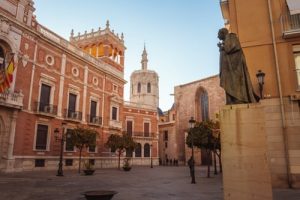 We will be expecting you! Feel free to contact us, no strings attached. We will organize everything.