Since November 2015, Guiarte Valencia offers regular Guided Tours in Valencia during the weekends. If you want to make the most out of the city, the best option is to book Walking Tour Valencia. For just 13 € per person, you will discover Valencia's old town. Children under 8 are free and, from 8 to 15, they pay only 8 €.
What will you learn during this regular guided tour around Valencia? The City Tour Valencia starts in the Serrano Towers and will cover the most emblematic landmarks in the city centre: Plaza de la Virgen, Basílica, Plaza de la Reina, the Cathedral, Plaza Redonda, the Central Market and La Lonja de la Seda. The price includes the ticket to La Lonja de la Seda, one of the most important civil buildings in Europe, recognised as a World Heritage site since 1996.
City Tour Valencia (in Spanish) takes two hours, Saturdays and Sundays from 10:30 to 12:30, and ends around the Central Market.
Are you coming? You need to book in advance! Unless you book, we cannot confirm our availability. You can get in contact with us over Email, Whatsapp (+ 34 644 064 296) or buying your ticket on the website, and you can also ask in your hotel. We even have a stand in the Central Market where our staff will inform you: TiendaOfValencia, in box 10-11.
Apart from the regular Tours in Valencia, we organise private guided tours for individuals and/or groups. If the regular Walking Tour Valencia does not fit your stay in the city or you are a group, contact us in info@guiartevalencia.com and tell us your needs. We will get in touch with you as soon as possible.
Not sure yet? Check our clients' reviews. You can find the reviews in our website or in TripAdvisor.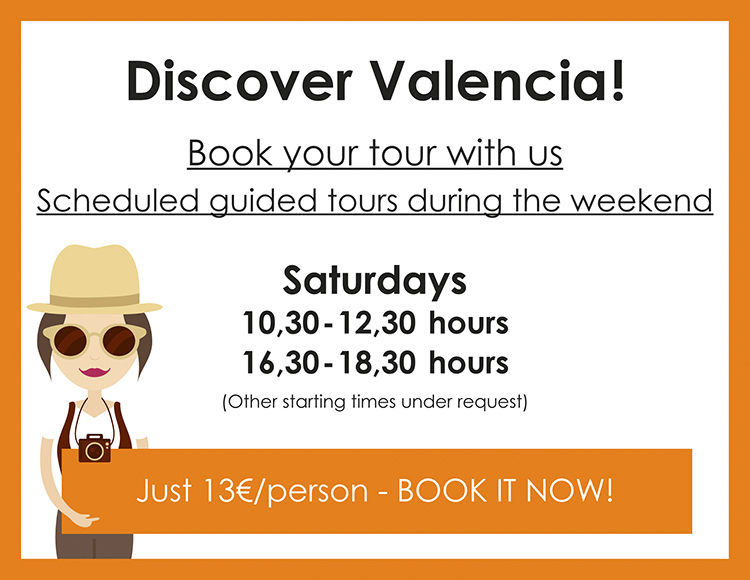 If you prefer to visit Valencia on your own, don't miss our recommendations.